Soap & Body Wash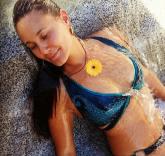 Cleansing to your body and non toxic to our world!
All Healthy in The Parks soaps and body washes are made from plant-based ingredients that gently cleanse, nourish and condition your skin. Made in small batches by formulators who produce their own wild crafted and organic ingredients or who are supporting other small farms that do.  Brilliance in hand!
The ingredients in our soaps & body washes are suitable for your septic tank and are safer for the environment.
| | | |
| --- | --- | --- |
| | | |
| | | |
| | | |
| | | |
| | | |
| | | |
| | | |
| | | |