Moisturizers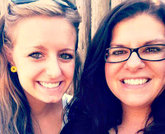 What we do to our faces...or don't do...matters.
Synthetics can mask and even surround cells and plump them creating a false beauty. Nature can heal daily damage, cleanse environmental toxins, fight free radicals, and calm, sooth, balance, restore and even skin without all the drain false chemicals put on our most sensitive dermis layers. 
So slather, and dab and smooth only the best of Nature across your skin and watch the years go by...without a wrinkle.
| | | |
| --- | --- | --- |
| | | |
| | | |
| | | |
| | | |
| | | |
| | | |